Culture and Heritage
Pockets of excellence can be found in the historic schools with rich legacies as beacons of academic excellence. The alumni, many of whom have become prominent in national life, attended these schools during the eras of colonialism, segregation and apartheid.
Music is an important component of daily life at Inkamana. The school has music groups for all tastes, among them are percussion, choir, marimbas, a cappella. Last year every Inkamana learner participated in the musical show Ipi Ntombi which was viewed by more than 3000 people. Inanda Seminary's members are also musically inclined - they were announced the KwaZulu Natal winners of the Steel Band Festival. St Boniface took first prize in the South African Choral Music Festival.
In sport Healdtown's Cricket Squad beat Dale College in the Coca Cola Under 19 T20 tournament, Freemantle's First Rugby Team has an unbeaten record and, the Under 17 Netball Team from Clarkebury won the Ngcobo District Championships. Tiger Kloof learners were declared the national winners of the Mail & Guardian Investing in the Future Award and St Matthews won first place in the District Environment Competition while Mount Arthur's Debating Team won first place in the Mega District Debate Competition.
In 2013 the HSRP initiated an annual inter-historic schools competition.
Grade 12 Essay Competition
The topic of the essay was Historic schools: inculcating in young people appreciation for the rich legacy bequeathed by the alumni and celebrating the history and heritage of our schools.
The judges, Dr Sindiwe Magona, Professor Andre Odendaal and Archbishop Njongo Ndungane were hard task masters and the high quality of the essays entered into the competition exceeded their expectations. Some of the judges' comments were "His energy and sense of purpose shine through in his essay" and "When he says we must start building our future on what our ancestors left us you believe him". Another comment "He has a strong sense of history, and his school's traditions, but what comes through even more is his sense of responsibility and appreciation of the present."
The winners were announced in September 2013. First place went to Kgaugelo Sehoole of Tiger Kloof. She received a R10,000 bursary towards her studies at WITS in 2014. In addition Kgau's essay will be published with an anthology of essays. Runners up were Skhulile Khoza of Inkamana High School and Chulumanco Sgcau of Adams College. They received R5,000 and R3,000 in bursaries.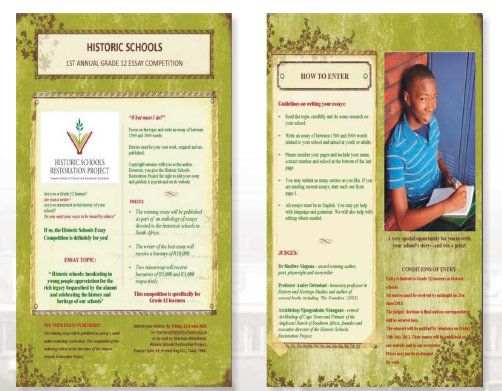 Grade 10 Photo Journalism Contest
This year we ran a photojournalism contest for Grade 10 learners. The title was MUST-SEE MOMENTS THROUGH THE LENS OF GRADE TENS.
The HSRP encouraged learners to address a topical theme through a creative, visual medium to connect with their school communities and share their work with family, friends and the public.
The project provided teachers and learners an opportunity to learn about both natural and contrived situations in their school surroundings by creating visual and written illustrations of various concepts.
The learners competed in a national arena with more than 1,000 of their peers for recognition and prizes. One disposable camera, instructions and competition requirements were sent to each Grade 10 teacher who supervised the learners. They were asked to capture scenes that are natural, spontaneous, unrehearsed and not posed on film and to write accompanying captions.